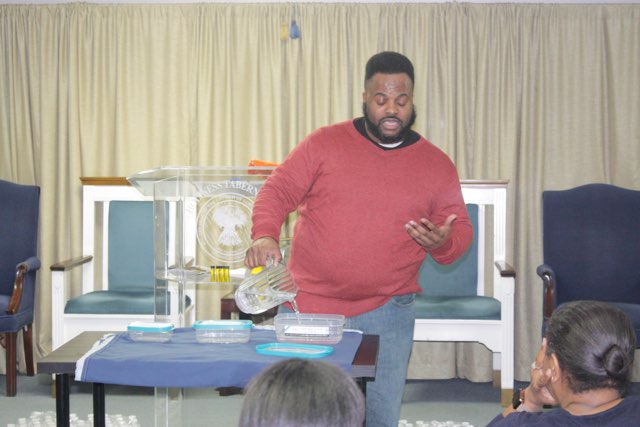 Over the years, I've had the opportunity to encourage and inspire
more than 5,000 people at over 20 events.
Whether you're a business, conference, church, corporation, and college,
I'd love to see how we can work together for your next event.
Talk Topics
I'm Living An AMPPED Life…Are You? – Living the Dream that you are purposed for can be so challenging. Do you know the dream that is before you? Has fear taken the motivation out of your sails? or May you are living the dream that someone else has given you.
How to Save A Life – Bouts of Depression and Loneliness and combating with extreme prejudice is the goal of this speech topic. In a TED Talk style presentation Andre shares some of the hardships of working through college dealing with changing of majors, suspensions, and suicide and prevention. Through it all Him being an RA showed his purpose.
The Storm is here (Ode to Mental Health) – Mental health is on the forefront of so many minds these days. Andre uses an approaching storm scenario to share faith, transparency, and mental health challenges. This parent of 3 shares stories of control paradox, and being in a HulaHoop.
Please let us know what you're working on by filling out this quick form or contacting my team directly.
I have been speaking professionally for less than 3 years and have given a number of addresses, sermons, and facilitated sessions to audiences as large as 300+ attendees.
As an experienced speaker, my team and I endeavor to provide two key things for your next event..
A stellar on-stage experience – I've engaged with audiences both large and small in different venues on a number of topics. As a presenter, I use stories, humor, comedic memories, and visually intense imagery to draw the audience into every word while getting to the point. The audience leaves with vivid thoughts of how they might approach something, experienced application, and ways to enhance their lives.
A stellar off-stage engagement – After working with a number of an event planner, we know the last thing you want to worry about is the speaker. We are the easiest/low-maintenance speaker you will ever meet.
Testimonials
"Andre has an amazing and inspiring message that is applicable to both personal and professional growth. His ability to capture attention in his speaking is like no other I've heard before. I truly appreciate the encouraging boost I receive each and every time I hear him. His words have truly helped me develop and create the businesses I own now. Very recommended."   ~ Ray Smith, CEO of JRated Productions, LLC
"As a Christians, we are called to win souls for Christ and spread the message of GOD's everlasting love.  But when talking to non-believers this task may become difficult and could deter you.  Even worse, you can fall into a situation where you are debating the Bible instead of drawing people to Christ.
Recently, my church received some training from Minister Andre Powell that really inspired me.  He gave us some tools to be more effective witnesses.  A strong key was having the right mindset before even approaching someone.  That process begins with constant prayer.  The right approach and attitude was also discussed as important factors.  Minister Powell lastly gave us the A, B, C's of witnessing.  Those letters stood for Acknowledge, Believe, and Confess.
Armed with this knowledge I began utilizing it as I spoke with people about Christ.  I found it to be highly effective.  I was able to easily memorize the tools he gave us and apply them to certain scriptures I shared with people.  While I have not reached praying the prayer of salvation with anyone, several people had inquired about more information on my church and GOD's love.  The training was extremely helpful."     ~ Christopher Randolph, Holiness Tabernacle COGIC
"It's logic but with an inspirational twist. It keeps the reminders of being focused on what the goal or what one wants to achieve in  perspective. Making it count really shows how much work can pay off and how badly you want your success, if I'm punching in my work day in and out, I'm going to be pleased with the overall outcome."   – John F. Mabry, III ("Everyday Counts" Entrepreneurs' Corner)
"Andre is a remarkable and captivating public speaker. His speeches are written and given in such a way that you can't help but be whisked away into the story and, as he says, "Take a journey with me[him]". He is able to incorporate his faith into his speeches, but the message reaches an audience of all creeds. His talks are as unique as he is and when you attend one of Andre's speeches you will learn something new about yourself and be inspired." ~ Kelsey Ruddick, Toastmaster International (57th Field Office)
next steps..
Thanks again for considering me for your event. You can take the next step by checking my availability. Just click on the button below and fill out our brief form. We'll get back with your soon, and see how we may be able to partner together.