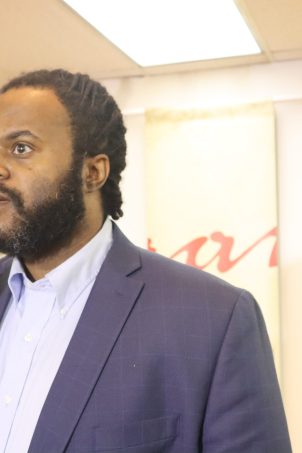 ThatGuyAMPPED (Andre M. Powell)
Founder, CEO, Speaker, Preacher, Branding and Marketing Expert, Content Creator, Philanthropist
| | | |
| --- | --- | --- |
| Speaker's U.S. Fee Range | Languages Spoken | Travels From |
| Range Provided, when requested | English | Virginia, USA |
Suggested KeyNote Speeches & Programs
Main Topics:
I'm Living An AMPPED Life…Are You?
How to Save a Life
The Storm is Here (Ode to Mental Health)
Supplementary topics
The Importance Of You: God's Idea of You
Evangelism 101: ABCs and more
Meeting Genuine Connections
 How many years have you been speaking?
I have been speaking to groups for 12 years in an official capacity. My first public motivational speaking engagement happened in 2001 on the campus of Virginia Tech. It was not in an official capacity but I remember it vividly.
What are some of the groups that you have spoken to?
I have had the opportunity to speak to a number of groups ranging from college & young professionals and young adults/adults groups, non-profit organizations, School age youth, and entrepreneurs.
What do you typically speak about?
Living the Purpose and Dream that you are made to Live is my focus in everything. With a diverse background as a license minister, young entrepreneur, and lover of people, my talk topics have developed in a number of areas: understanding who you are, overcoming fear and making genuine connections to Live that AMPPED Life
Tell us about your family?
I am blessed with a humble and God-fearing wife, Danielle and three adorable, intelligent and very energetic kids, Benjamin, Jonathan, and Gabrielle. We are active at our church and community. We enjoy watching movies, taking walks (chasing kids), and making music together.
What do you do when you're not speaking?
When I'm not out speaking or coaching, I am creating content with AMPPED Up Studios team, traveling the world, and giving things away.
If you could have one wish for this world what would it be?
I could always say the end of social injustice, equality for all, end of poverty or world hunger like many other would say to be politically correct but I will not. My wish would be that everyone would Live the Dream they are made for.
What are your favorite books and movies?
To Kill a Mockingbird and the Bible are probably my favorite two books. Many may say the Bible is a little cliché because I am a minister but I am enjoy the story telling aspect that it has. It leaves the reader with a very detailed picture of what was going on.
How do you relate to today's College students and Young adults?
Experience, Passion, and Information. I have been where they are, and lived it first-hand. I spend a great deal of time teaching and facilitating conversations with them. I am the eldest of four and have had the desire to mentor since I was young. Lastly, I bring information that they can confirm for themselves. The youth and young adults of this time are more informed and more challenging to authority as they have so much at their finger tips.
What sets you apart from other motivational speakers?
Passion and Story-Telling sets me apart. I genuine have a heart for those younger than me and wanting them to succeed even if it means my time, my finances, networks, and other resources to help them succeed far beyond where I have.  I LOVE telling stories. Whether it is a true story of experience or an imaginative narrative to illustrate a point, I love telling stories. As a dad and coach, I use my imagination often to keep my sons and mentees entertained to demonstrate patience and constraint when having to wait.
How did you get into public speaking, particularly motivational speaking?
I started speaking to people and presenting even before I was any good at it. From humble beginnings to speaking in front of large crowds, from stage freight to standing with confidence. I remember the first time I knew was born to do this. On early afternoon of September 11th, 2001, in one of America's hardest times recently, I found myself encouraging  students to press on in hope. In front of 300+ students and faculty in the middle of the Virginia Tech Drill Field, I was able to encourage to keep the faith, keep praying, and move forward, not knowing that anyone knew who I was or looking for any type of fame from it. I received a few notes and cards over the next few months saying thank you, and sharing statuses of family members.
Let's Connect