Do you remember waking up early on Saturday mornings when you were a kid? While others might have still been sleeping, you got your siblings and raced to the nearest TV for Saturday morning cartoons. If your house was anything like mine, you were excited for the Saturday morning Bowl of your Favorite cereals! From Cinnamon Toast Crunch to Sugar Smacks and Honey Nut Cheerios the list goes on…
Well, we are whole adults now and we probably still love those cereals of our childhood they just might not like us as much as we would like them to. I was asked to try Magic Spoon cereal and give an opinion. Some others inquired about this keto-friendly cereal option based on other experiences and so I had to investigate further. Join me as I review the Magic Spoon Individual cup variety pack.
If you are wondering if I actually tried them, check out the video: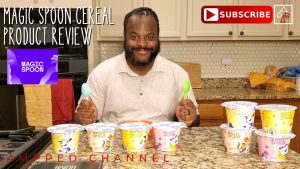 After the video, I wanted to write some things down and get them out there for all those that requested it. I will break it down by cereal and then do a pros/cons wrap-up. So let's dive into Magic Spoon's Variety Pack!
Fruity: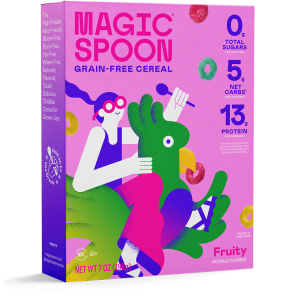 If you loved Fruit Loops growing up this is the adult version for you. Its colors look a little faded but the fruit flavor is popping. With or without milk I could see this being eaten easily. And for a healthy alternative (keto-friendly) this works for sure. I think milk enhances the flavors but that might just be the sweetness of the milk in combination with the cereal. Overall surprised that it was as a flavor as it was.
Peanut Butter: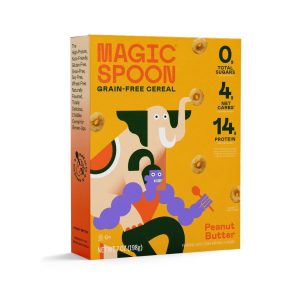 It is compared to Reese Puffs, I love Reese Puffs but this is on the level I expected. After trying the Fruity, cleansing my palette, and the strong peanut butter aroma I was hoping to be amazed. I knew that it wouldn't taste like Puffs but the flavor was the letdown. There is a peanut butter after taste which reminds me of an afterthought. The positive though was that it was a light and fluffy crunch cereal. Don't let it sit in milk too long.
Cinnamon Roll: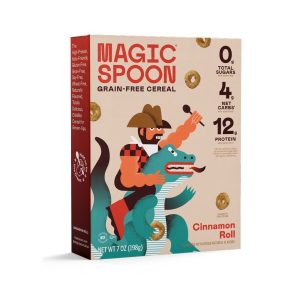 BEST AROMA WINNER BY FAR! My mind immediately jumped back to Cinnamon Toast Crunch another favorite of mine and I do not doubt they played around with its hearty flavor to give that same punch. This is a savory cereal with semi-sweet notes. Even the milk gets that cinnamon look we loved from Cinnamon toast Crunch and I can't forget about Apple Jacks (w/o the apple). The flavor is enjoyable and definitely tastes hearty.
Frosted (Frosty):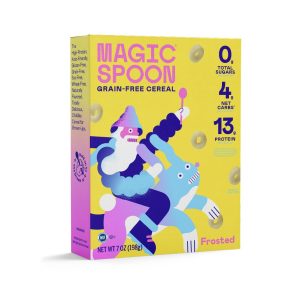 Ummm…This does not look FROSTED to me at all. I was like what are they trying to pull with this one? But the flavor will surprise you. Milk, birthday cake, and sprinkles are what I get. Without milk, there is a light sweetness to the cereal that makes you think healthy snack but it does not scare you away. This one has a similar texture and lightness to the peanut butter cereal but the frosted flavor is better.
I think Magic Spoon so far has shown that keto cereals can be tasty and still accomplish the goal of eating healthy.
Pros: Net Carbs way down, Amount of protein is great for cereal, overall the taste wasn't bad but like anything you have to get used to it. Better with milk.
Cons: A little pricey (but so are most foods that are better for you). All flavors aren't made equally. I felt like they stuck to my teeth a little more but good teeth brushing and good to go.
Don't try these cereals hoping they are going to taste like their sugary cousins but go in with an open mind and focus eat better and I think you have something you can enjoy.
This is a partial review of Magic spoon cereals because there are a few missing at this time: Cocoa, Cookies & Cream, Blueberry muffin, and Maple Waffle. I haven't seen an individual variety pack that includes these flavors yet but I will definitely keep my eyes open and edit this when I have tried the other four. That is all I have for now!
Until Next Time…Always Live an AMPPED Life. Let's Get AMPPED!!